Inclusive Living height adjustable electric WORKTOP lifting systems offer adaptability and accessibility to meet different and changing needs for individuals and facilities. Used to raise and lower worktops vertically at the touch of a button, the lifts can be used separately or in conjunction with a wall cabinet lift to totally adapt the application.

Our diverse and extensive ranges of height adjustable WORKTOP lifts systems offer many different mounting systems including – floor, wall, island and freestanding applications.
Available in many different sizes and configurations including-straight, corner, plusmodule, island and freestanding models.
The lifts can used for new or existing installations or even relocated.
Why is this important?  Because it offers greater versatility and flexibility for various applications and installations. Please review our products, listed below to help select the systems which best meets your needs and requirements or contact Inclusive Living.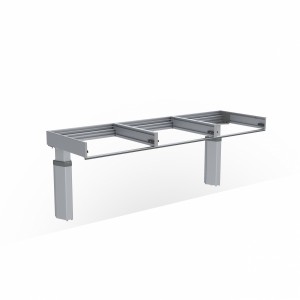 WALL Mounted Height Adjustable Worktop Lift-Electric-Baselift 6300HA-Straight View Product
The BASELIFT 6300HA is a WALL mounted worktop lift system, it is used to lower and raise worktops vertically, at the touch of a button.
It is used to adapt various environments and caters for all ages, varying needs and abilities.
Used for seated or standing positions, the open area below the worktop surface provides extra leg space and allows for easy front access for seated and wheelchair users.
Baselift 6300HA model has increased frame height for installation of sinks, cooktops, drawers and safety locks. Equipment is selected according to the desired function.
The lift has a safety system installed underneath the front edge of the worktop and stops lowering if it comes into contact with obstruction. This helps prevent potential crushing or injury and allows for safe operation.
The lifts can be used for new or existing installations and relocated (if required).
They are used separately or in conjunction with other worktops or wall cabinet lifts to totally adapt the space.
Motors and services such plumbing and electrical can be concealed by telescopic cover panels, creating a more discreet appearance.
Straight model sizes range between – 59.0 to 240.0cm in width and up to 480.0cm with PLUSMODULE. 
Corner models available in various configurations and sizes.
Please review our brochure for technical information or contact Inclusive Living.
Areas of use include kitchens, bathrooms, bedrooms, dinning and laundries within the home environment and they also suit many other applications, for example:
Individual homes – senior living, retirement facilities or aged care
Disabilities – individual homes or supported/group homes
Hospitals – rehabilitation facilities and other areas
Workplace – receptions, offices, canteen/meal room facilities, meeting areas
Education – childcare, schools, Tafe, universities. (please see our Education brochure)
Other – retail and hospitality, leisure facilities.