Our electric height adjustable free-standing and wall mounted nursing and changing tables can be raised and lowered to a ergonomic working height by the use of a push-button control. Our tables are used in a variety of workplaces including childcare, schools, home and healthcare facilities. They cater for various abilities, sizes and ages.
Working in physically demanding environments can potentially lead to an increased risk of injuries in the workplace, including back or shoulder problems. The ease of transfer of persons to a suitable working height, enhances safety and comfort and will help to minimise the risk of incidents or injuries for all participants and carers.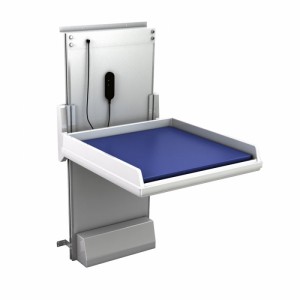 Wall Mounted Adjustable
Nursing Table-Electric (334) View Product
Nursing table 334 is wall mounted which can be lowered to the floor to simplify transfer for children. The table can then be raised to a comfortable working height using the push-button control. It can be folded against the wall when not in use to save space. The safety switch beneath the entire nursing area stops the table moving when it meets resistance.
Specifications
Height adjustable between: 36.0 – 109.0 cm
Mattress: 70.0 x 70.0 cm
Speed: 5.0 cm /sec.
Total depth: 91.5 cm
Height, wall stand: 143 cm
Width, wall stand: 62.5 cm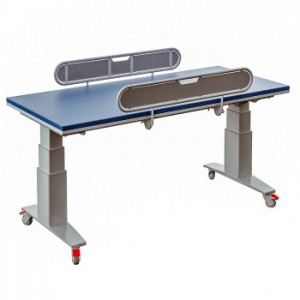 Freestanding Height Adjustable
Nursing Table-Electric (345) View Product
Nursing table 345 is a free-standing nursing table which can be lowered and raised by up to 40 cm to assist with easy transfer. The table can then be raised to a comfortable working height using the push-button control. The surface of the nursing table is waterproof laminate with ABS-plastic edge. There is free space under the nursing table for a patient lift device to be used. Gates on both sides can open and fold down allowing for easier access for carers and a safer working environment. Lockable castors for safety whilst in a stationery position
Height adjustment between 56.7 – 96.7cm
Widths: 140 cm and 180 cm
Depth: 80 cm
Max Load: 200kg