Our ELECTRIC height adjustable wardrobe lifting systems can be fitted into fixed/built-in wardrobes.  The clothes rail lowers down and out to the front of the wardrobe at the touch of a button, via a corded control.
Easy and safe to use, promotes functionality, participation and independence.
Click on an image to enlarge
Two systems are available – Butler 720 and NEW Butler 722-Take a look at our brochures.
NEW Butler 722 used for standing and seated (wheelchair) positions and is installed into upper section of wardrobe to maximise space and lower section can be utilised for other storage.
Butler 720 used for seated (wheelchair) or standing positions to assist people with various physical abilities (including children), people living with a disability or suffering from conditions such as arthritis.
Please review our videos and technical information below or contact Inclusive Living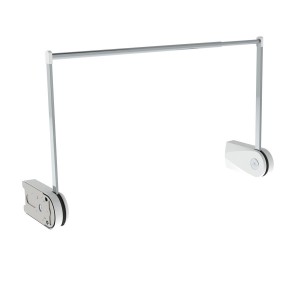 Height Adjustable Wardrobe Lifting System - Electric
Butler 720 View Product
Our versatile electric height adjustable wardrobe lifts are fitted/installed into fixed/built-in, new or existing wardrobes
The lift lowers and raises clothes out and down (in an arc movement) to and from the wardrobe, within a comfortable reach
Mainly used in a seated position (wheelchair or other), for lower section of wardrobe, it assists people living with a disability to access clothes in an easy and safe manner
Used in a standing position to assist people with varying needs and abilities, helping to cater for people living with existing conditions such as arthritis, neck or shoulder injuries
Helps to minimise risk of injury by accessing clothes in a standing position, compared to climbing steps or ladders
Maximises useable space and promotes functionality, safety, participation and independence
Fits wardrobes measuring 60 – 90 cm or 100 – 160 cm
Available in 2 control types – corded control or ALU control
Available in 3 colours – white, grey, black
Review brochure for specification information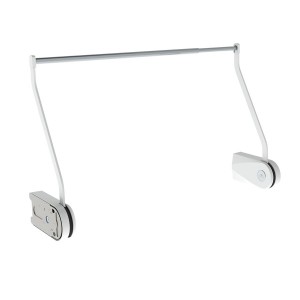 Height Adjustable Wardrobe Lifting System - Electric
Butler 722 View Product
Our versatile electric height adjustable wardrobe lifts are fitted/installed into fixed/built-in wardrobes, new or existing wardrobes
Butler 722 wardrobe lift lowers and raises the clothes rail, down and out (in an arc movement) to and from the wardrobe at the touch of a button
The wardrobe lift is installed in the upper section of wardrobe to maximise useable space and provide easy access to clothes in a standing position. The lower section then can be utilised for other storage
Used in a standing position it also assists people with varying needs and abilities (including children), whilst catering for people with conditions such as arthritis, neck or shoulder injuries who have limited movement
Used in a seated position (wheelchair or other), it assists people living with a disability to access clothes and the lower section then can be utilised for other accessible storage
Easy and safe to use, clothes can be accessed within a comfortable reach, helping to minimise potential risk of injury from climbing ladders or steps
Maximises space and promotes functionality, safety, participation and independence
Fits wardrobes measuring 60 – 90 cm or 100 – 160cm
Available in 2 control types – corded control or ALU control
Available in 3 colour – white, grey, black
Review brochure for specification information