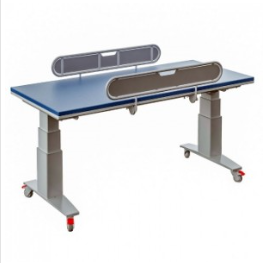 Nursing table 345 is a free-standing nursing table which can be lowered and raised by up to 40 cm to assist with easy transfer. The table can then be raised to a comfortable working height using the push-button control. The surface of the nursing table is waterproof laminate with ABS-plastic edge. There is free space under the nursing table for a patient lift device to be used. Gates on both sides can open and fold down allowing for easier access for carers and a safer working environment. Lockable castors for safety whilst in a stationery position.
Widths are between 140cm to 180cm.  Maximum load is 200kgs.
Take a look:  https://www.inclusiveliving.com.au/?catablog-items=freestanding-height-adjustablenursing-table-electric-345
For more information on all Inclusive Living products, please visit our website at https://www.inclusiveliving.com.au/ or give us a call on 1800 304 330.